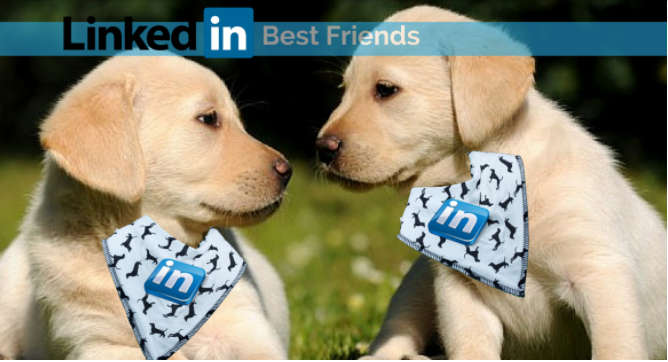 If LinkedIn Isn't Your "Job Search Best Friend",
Do You Know Why It Should Be?
As all of you know, I am passionate about LinkedIn. LinkedIn is an awesome tool for every business person, not to mention every job seeker and student. The unfortunate thing for most people is that they have absolutely no clue how to really use LinkedIn to get the most out of it. Using LinkedIn as a job search tool is the most powerful tool at your disposal, but this is not obvious to most LinkedIn users.
Let me ask you this? Is your email inbox getting infiltrated with message after message from numerous job boards? And are those messages repeating the same old jobs, or worse, are they sending you all kinds of job positions that aren't even remotely related to your job search? I thought so.
LinkedIn is a massive database and there is far more information there that you should be using than you probably realize. It has been said that 85% of all jobs are posted on LinkedIn. So the truth is, you probably don't need to sign up for every single job board on the internet. It is just going to fill up your inbox and frustrate you. The solution? Just be sure to make LinkedIn the number one resource for your job search if you want to find the job of your dreams…fast.
If all you are doing on LinkedIn is updating your profile now and again and waiting for hiring managers and recruiters to find you, you are completely missing the boat. While we do want to make sure you have a great inbound flow of hiring managers and recruiters looking at your profile every day, that is not going to happen just by updating your profile.
Having an awesome LinkedIn profile is VERY important, but it is only one piece of the puzzle. You not only want to have a carefully crafted profile that is optimized for your job search, you want to have a strategy in place that keeps hiring managers and recruiters finding and searching your profile continuously. That is the key to using LinkedIn for an inbound flow of fresh profile views daily.
Now as with every best friend relationship, there has to be give and take to make things work. The same holds true for LinkedIn and your job search. So once you get your inbound flow of potential hiring managers and recruiters coming to look at your profile, you will also need an outbound flow of looking for highly targeted job positions and reaching out to the hiring managers and recruiters of those positions.
Is there a company you would love to work for? Wondering if there are any positions that might be a fit for you? Wonder how to find and contact someone at that very company? Before LinkedIn, you would have to do exhausting searches on Google and other search engines to find even the smallest bit of information on companies and possible positions. Now, by making LinkedIn your job search best friend, you never have to leave LinkedIn to find all of the information you need. LinkedIn can give you ALL of that information quickly and easily. You just need to know the best way to find it.
If you are interested in learning more about how to use LinkedIn for your job search and how to find the job of your dreams, FAST, please go sign up now for my FREE training at:
//jobsearch.iljmp.com/1/newposition
You have nothing to lose and EVERYTHING TO GAIN. I would love to see you there!

Tammy Homegardner,
LinkedIn Expert and Best-Selling Author